Photography
My focus in photography is mainly landscape and wildlife. I spend quite a bit of time hiking in the backcountry of Alaska to find gorgeous sights that few people ever see. It's as rich and rewarding to hear others remark on the beauty of these places as it is for me to be there. Sharing these sights is incredibly motivating. I hope to continue exploring, sharing, and writing about these remarkable places and animals for years to come.
I strive to keep images true, with minimal post-processing. I use slight color correction or white balance, contrast, cropping, and exposure adjustments to shadows and highlights. I generally do not use image stacking or HDR processing techniques. I likewise do not add or remove elements from my photos (the only exception being sensor dust spots). The largest area of artistic license I take is in white balance, making a photo warmer or colder. It's difficult to remember after the fact what exactly the color balance of a scene was, and there may be emotional or physical influences that appear in the final image. An increasing amount of nature photography today could be better classified as "digital art", with little representation of reality. While I don't dislike this form of photography, I do feel there is a bit of dishonesty when photographers are not upfront about the amount of editing that went into their work. I strive to keep my photos similar to what you would see if I were shooting with film.
Most images are for sale in multiple formats and sizes.
Follow me on social media!
I earn commissions if you shop through the links below.
---
Affiliate link – I earn a commission if you shop through the link(s) below at no additional cost to you (more info)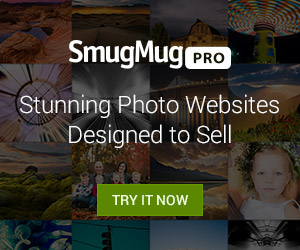 ---
The majority of my photos are hosted on Smugmug. If you are looking for a better way to share your pictures, start your own website, or just back-up storage for your photos, I encourage you to check them out. They have fantastic plans starting at $7/month for unlimited storage. Use the link above for 15% off your first subscription. Plus, I get a kickback as well, so I much appreciate it! You can read about it more on my blogpost: Smugmug – It's Not Just For Professional Photographers.