There's perhaps no bigger draw to the far northern latitudes in winter than the chance to see the aurora borealis. It's understandable. The phenomenon is stunning. Some of the best places to see it include Iceland, Greenland, Sweden, Finland, Norway, Northern Canada, and of course, Alaska, which are already gorgeous locations on their own.
This is a quick little guide for what you'll need to do to prepare for a trip to see the northern lights in general. There are additional links for further details, including how to photograph the aurora below.
Jump to:
Locations to View the Northern Lights

Dressing for Cold and Additional Gear

Where to Go to Watch

When do the Lights Come Out
---
Affiliate link - I earn a commission if you shop through the link(s) below at no additional cost to you (more info)
---
Do Local Research!
You're here. Good, off to a good start. Let's start with location planning. Maybe you already have a destination in mind. If not, I have some suggestions below. Wherever you choose, do a lot of local research before buying your tickets. The biggest things to keep in mind are the time of year and weather. Most good viewing locations in the northern hemisphere are light 24 hours a day in the summer (mid-April through mid-August). So, there is exactly zero chance of seeing the aurora in Fairbanks in July. Most areas will be cold, some will be very cold. I've included some tips on how to dress properly below.
Long story short: get to know where you want to go.
Location
Latitude is what matters here. The best chance of viewing the aurora is near the auroral oval. Approximately 63 to 70 deg N latitude. The further south you go, the probability of seeing it goes down. This oval or ring is centered around the magnetic north pole (approximately Ellesmere Island, Canada), not the geographic north pole. So this approximation should be adjusted slightly downward near eastern Canada, and northward over Siberia.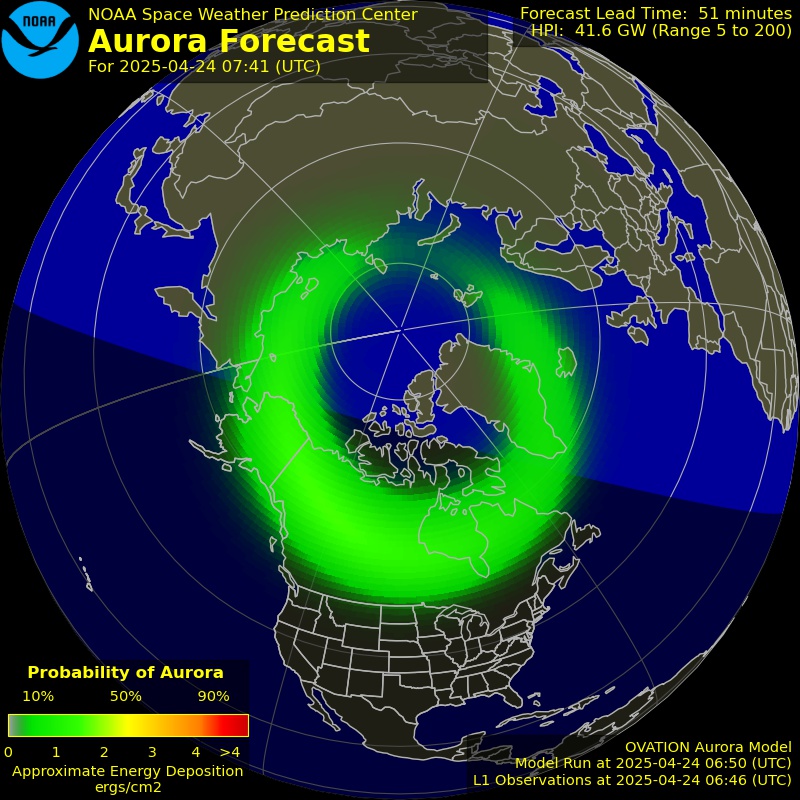 A trip to Anchorage or the Kenai Peninsula may give you the chance to see the aurora borealis. But, if you are traveling with the primary intent to view the northern lights, then you want to go somewhere on or very close to that oval. Below is a list of popular hubs for aurora viewing.
---
Enjoying the content? Help keep this site running and support my creative work!
---
Fairbanks, Alaska
Yellowknife, North West Territories
Whitehorse, Yukon
Reykjavík, Iceland (or most of Iceland)
Kulusuk, Greenland
Nuuk, Greenland
Tromso, Norway
Svalbard, Norway
Kiruna, Sweden
Northern Lapland, Finland (region)
The Kola or Yamal Peninsulas, Russia (regions)
Murmansk, Russia
Antarctica (aurora australis – southern lights)
This is by no means an exhaustive list. These are just some of the more popular destinations and areas that heavily advertise for aurora tourism. Of course, anywhere in Greenland or Iceland, much of Alaska north of Anchorage, northern Scandanavia and northern Russia are all going to have ample opportunity to view the northern lights.
---
Affiliate link – I earn a commission if you shop through the link(s) below at no additional cost to you (more info)
---
Dress Appropriately
Layering
In virtually every outdoor activity, it is most important to layer your clothing. Standing outside to watch the aurora in the cold is no different. Don't look for one giant jacket to keep you warm. With multiple layers, you can remove parts when you are getting too warm to keep from sweating, which can be really bad in the cold. (Shopping from the links below does help to support this page!)
Base layer
Start with a base layer pants and shirt. This layer is next to skin and is your primary defense against the cold. This layer needs to be quick-drying and wick moisture away from your skin. That means, absolutely no cotton for this layer. There are many brands out there that make great baselayers, some synthetic and some wool. Merino wool is definitely my favorite choice as it is antimicrobial (doesn't smell too bad), and I can wear it for a few days without washing while hiking or camping. Ibex and Icebreaker are some of my favorite merino wool baselayer brands. There are a number of good brands of synthetic base layers, just double check that there is no cotton content (really common with cheap brands). My favorite synthetic base layers are Patagonia Capilene products. Note that there are usually different weights to baselayers.
Shop Women's Patagonia Baselayers
Shop Men's Patagonia Baselayers
Insulating layer
Next, you need an insulating layer. Sometimes I'll even make these two different layers, especially if I'm hiking. The level of insulation you choose depends on how cold of weather you will be in, how active you will be, and how warm/cold you tend to be. Often I'll wear a fleece jacket beneath a light synthetic insulated jacket, or a big down jacket for the really cold nights.
Don't neglect your legs either. Get some insulation on them! Often people wear just a base layer with jeans over them. Maybe your legs don't feel too cold like your arms and body do, but not insulating your legs means the blood through your legs cools down more on the way to your feet! The first line of defense against cold feet is to keep your legs warm! Some great brands for insulating layers are Patagonia, Marmot, Mountain Hardwear, The North Face, Arc'Teryx, and Outdoor Research.
Outer layer
Finally, an outer layer should shield you from the elements. For aurora viewing, it probably doesn't need to be waterproof, since you won't be watching aurora in the rain. You might want protection from the wind, though. Most of the brands above make outer layers or shells as well.
Accessories
Don't forget your hands, feet, and neck! Heavy mountaineering weight merino wool socks are awesome! I actually don't recommend layering socks for most people, as they are often made to wick moisture away anyway and layering can lead to blisters on your feet. Darn Tough Vermont , Icebreaker, and Smartwool all make some excellent options.
Make sure to wear a good hat that covers your ears, and something to cover your neck, nose, and face like a Turtle Fur Neck Warmer.
Warm mittens will keep your hands warmer than gloves will, but if you're taking pictures, mittens are a challenge. I wear a heavy liner glove beneath heavy mittens so I can take off the mittens briefly to make camera adjustments and still not expose my skin. Many liner gloves come in touch-screen friendly options like the Black Diamond Midweight Screen Tap Glove (also available in heavyweight).
Insulated boots are next for keeping your feet warm. You'll want to look at grams of insulation. In general, some say the number of grams corresponds to a temperature rating, as in 20g is good for -20 °F, 40g for -40 °F, etc. I think this is a good guideline, but keep in mind that every individual is different. If you tend to always have cold feet, get a warmer boot than you think you need. There are lots of options out there like Keen, Oboz, Merrel, and Icebug. Baffin makes some extreme cold weather footwear that won't break the bank.
Headlamp
Totally unrelated to staying warm, but in my opinion, a necessity is hands-free lighting. Get a good headlamp, and carry spare batteries, especially in the cold. Make sure it has a red light mode, as that won't affect your night vision as much as bright white lights. Petzl and Black Diamond both make excellent headlamps.
The Petzl Actik Core is my absolute favorite headlamp I have ever owned. It has a long-lasting, usb-rechargeable battery. At 450 lumens, it's bright, it's comfortable, the controls are simple, intuitive, and the button is easy to operate with gloves or mittens on. I highly recommend this light.
I'm also a big fan of the Black Diamond Storm. It just uses AAA batteries rather than recharcheable, but they last a long time. At 400 lumens, it's more than adequate for hiking, running, or working around the camera in the dark. You simply can't get a better headlamp for $50.
Fairbanks Winter Layering Example
For a layering example, when shooting in -40 °F temperatures in Fairbanks, I wear a heavy baselayer, long sleeve wool or synthetic shirt, a windproof fleece, and an 850-fill down jacket on my body. On my legs, I have the same heavy baselayer, a fleecy softshell pant, and a heavy synthetic insulated pant.
Where to Go
This is where your local research comes into play. The most important factor is dark skies. Get away from town where city lights dominate. You also want an open view of the sky, especially in view of the auroral oval. For instance, in Fairbanks a view of the northeast sky is important. If your interest is in photography, you might want a place with some interesting foreground like mountains or trees, but nothing so big it's blocking a view of the sky.
As I said, do your local research, there are probably some suggested spots available on the web or through a travel agency or visitor center. Go check out the location ahead of time while it's still light so you know where you are going and where would be good camera locations. Personally, I really like trailheads as there is usually a sizeable parking area, and sometimes a short walk on a trail can lead to great views.
If you are viewing from a parking area, be sure to turn headlights off quickly, there may be others taking photos in many of the popular spots.
When do the Lights Come Out?
Well, they don't. They're sort of always there. It just gets dark enough to see them. Of course, they're not always incredibly active, bright, or even in view, sometimes not even strong enough to be visible, but they are there. I've seen them appear in the twilight, other nights they stay too far north to see. There are groups dedicated to notifying you when the northern lights are out like the Facebook group Aurora Borealis Notifications, but there are regionally specific groups as well. There are multiple all-sky cameras you can check live as well like Aurora Max in Yellowknife or the Geophysical Institute All-Sky camera at UAF. These are great tools for staying out of the cold until the aurora is visible.
There is data available that can hint if the aurora can be good to use. These tools come from geophysical and satellite data measuring things like solar wind and interplanetary magnetic field and can indicate when the conditions are right to cause more active aurora. Unfortunately, there's not a catch-all tool that says "the aurora will be awesome in 2 hours!" Patience is the name of the game.
The National Oceanic and Atmospheric Administration has a 3-day aurora forecast (not current at this writing) and a 30-minute forecast (current at this writing) tool that can be somewhat insightful. Again, don't 100% rely on forecasts and tools, the aurora sometimes appears when you least expect it. Patience.
Photographing the Northern Lights
---
Affiliate link - I earn a commission if you shop through the link(s) below at no additional cost to you (more info)
---
Below you can find my tutorials on how to photograph the aurora borealis.
Thanks for reading! Please subscribe if you are interested in more tutorials and guides. I rarely send e-mails, once every couple of weeks tops. You can support this page and the guides within it by ordering items off of the Amazon links on this page, purchasing prints from my portfolio, or making a small donation. Thanks again!
Subscribe