"Quick! The Aurora is out! What settings should I set my camera to?" It's the most frequent question I see when there is a geomagnetic storm in progress or the immediate forecast. Unfortunately, it's a bit of a loaded question. Not all cameras or sensors are the same, and the aurora is a very dynamic phenomenon; there is no one-setting-fits-all answer.
This article is about getting to know and understand your camera settings to give you a starting point on aurora photography and help you figure out what are the best camera settings for aurora. If you feel comfortable with camera settings, you can skip to the examples at the end. If you are just looking for information on viewing the aurora in general, check out this article here.
This guide is based on how I shoot the aurora, the way I operate my camera at night, and the thought process I go through. These aren't rules to follow, but suggestions to get you started so you can find what works for you and your camera system.
What kind of camera do you need?
Many different cameras can capture photos of the northern lights. Any camera that you can put on a fully manual setting, or "M" and be able to manually focus. That includes all DSLRs, mirrorless, and some compact cameras. It's nice to have a wide-angle lens so you can get as much of the sky into the frame as possible. There are even some apps for smartphones that allow them to take somewhat decent aurora photos.
Camera Settings For Aurora Photography
What controls will you need to use?
The three essential camera controls you need to know and understand are:
Aperture – the amount of light coming into the camera
ISO – how well your camera uses incoming light
Shutter Speed – how long light will enter the camera

Aperture
The aperture setting is the easiest decision for me when shooting aurora. I use the lowest setting possible. The aperture is the size of the opening in the lens. The highest aperture setting (or f-stop) corresponds to the smallest opening; at the lowest f-stop, the aperture is wide open allowing the most light in. It's worth noting that many lenses may have higher optical aberrations at their lowest f-stop (chromatic aberration and vignetting are typical), so it's worthwhile testing this with your lens to see what you find acceptable.
---
Enjoying the content? Help keep this site running and support my creative work!
---
Most kit lenses that come with a DSLR or mirrorless will have the lowest f-stop around f/3.5. There are a good number of mid-price, wide-angle lenses that are f/2.8 and some (usually pricey) at f/1.8 or f/1.4. The benefit of using a higher aperture setting is that you get a higher depth of field (greater distance range in focus), which typically isn't as important when shooting the aurora.
---
Affiliate link – I earn a commission if you shop through the link(s) below at no additional cost to you (more info)
---
ISO
I usually change the ISO setting very little while shooting aurora. The ISO setting controls the sensitivity of your camera's sensor (or how strongly the camera boosts low light). It's kind of like when you turn up the brightness on a photo in an editor, except it's happening in-camera.
Think of the ISO as an amplifier, and just as an amp can take a low volume voice and blast it over a whole stadium, a high ISO setting can take a tiny bit of light and practically turn your camera into night vision goggles if it goes high enough. This is nice because a high ISO setting means you can use faster shutter speed and capture more detail in fast-moving aurora. There is a price to pay for this amplification in the amount of electronic noise as well as a reduction in color and contrast.
The quality of your images from the ISO setting is probably the most variable control across different cameras (and the largest benefit to having an expensive one). You will need to find that "sweet spot" that balances the ability of speed and image quality.
For instance, my Nikon D7000 looks fairly good at an ISO up to 1250 for night images, but starts to suffer at 1600 and up [The more current model NIKON D7500, Nikon D7200 or even Nikon D7100 24.1 MP slightly edge out the older model in ISO performance]. Photos from the Nikon D4 or Canon 5D Mark III push a pretty decent image quality up to ISO 3200-6400 (and up). My older Nikon D90 starts to suffer above ISO 800.
---
Affiliate link – I earn a commission if you shop through the link(s) below at no additional cost to you (more info)
---
If you want my quick answer for ISO setting, considering a mid-range DSLR or mirrorless with an f/stop in the f/2.8-3.5 range: ISO 640-1600 should produce an image of reasonable quality. For high-end cameras (like Nikon D4 or Canon EOS 5D Mark III) an ISO of 3200 – 5000 can yield quite good results.
Shutter Speed
In my opinion, the shutter speed is the most important thing to think about while shooting the aurora. The longer your camera's shutter stays open the longer light hits the camera sensor. You're probably using the lowest aperture setting, you have a fairly limited range to work with for ISO, but reasonable shutter speeds for aurora photography can be a fraction of a second up to as long as your camera will let you (typically 30 seconds without a manual release).
The thing to keep in mind is motion. Taking a 5 second long of an exposure of a race car driving by is going to be a blur, the concept is no different for aurora. If it's not moving fast, diffuse, or just sitting on the horizon it's easy to get away with long shutter speed. That can allow you to decrease the ISO setting and get a higher quality image.
On the other hand, during a strong geomagnetic storm the aurora flickers and dances with pinks and reds shooting through, rays and coronas form and disappear on millisecond timescales. With a long exposure, all of that wonderful detail is lost. That's when I really crank up the ISO and take the shutter speed to as fast as I can, sometimes to less than 1 second!
---
Affiliate link – I earn a commission if you shop through the link(s) below at no additional cost to you (more info)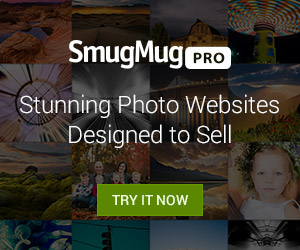 ---
Overexposure
Even at night you can get too much light and overexpose your photos. The camera's sensor is more receptive to the green emission lines from the aurora than your eye. It can be easy to use too long of shutter speed so that your sensor is over-saturated by that light.
Often this makes that green aurora look too bright or even white (all details are lost) in the photo. It's hard to come up with a simple rule to prevent this. You will just have to watch the monitor (or the histogram) on your camera until you figure it out. The photo above has a section of overexposed aurora in the band.
Scenarios and Examples
What's the scene? Think about what the aurora is doing! Is it fast and bright overhead, or just a dim oval on the horizon? Here are a couple of examples with settings info:
1) A dim aurora barely above the horizon with no visible motion or structure?
This is the most common sight at high latitudes like my home in Fairbanks. Almost every clear night the auroral oval is visible to the northeast for us.
Go for longer shutter speed, there are no details to capture.
Longer shutter speed means you can decrease the ISO for less noise
The activity was low and there was almost no visible motion of the aurora. It was just an oval band sitting on the horizon, barely above the trees. I used a very long shutter speed and decreased ISO to lower noise. This helped create a smoother image, which is nice for the reflection! It should be noted that it's not exactly what it looked like to the eye since everything including the landscape is brighter.
---
Affiliate link – I earn a commission if you shop through the link(s) below at no additional cost to you (more info)
---
2) Aurora in Twilight
This is definitely one of my favorites! The aurora is bright enough to be seen even though there are barely any stars out. There's more motion, but not much detail or color yet. This is because it's usually only possible to see the aurora when it is very active if the sky is still light.
I wanted to keep a low ISO so that the bright sky didn't get too noisy. In this case, I used way lower than normal at ISO 400. I absolutely could have used a higher ISO and shorter shutter speed. This would have provided more detail in the color. However, the aurora wasn't moving very fast so there wasn't really a need for fast shutter speed.
3) Fast, bright, or overhead corona
The aurora is directly overhead, moving incredibly fast, with a strong corona (diverging rays shooting up into the sky), pink lower borders are flickering across the sky. Think fast!
At 1.6 seconds, this still wasn't a fast enough speed to capture all the detail. This image probably would have benefited from using a higher ISO. If I had, the shutter speed could have been brought down to less than 1 second. This would help a lot in bringing out that lower pinkish border (it moves so fast). This is a PSA for learning how to adjust your setting quickly because these "storms" don't often last very long!
Typically with an "electrifying" corona like this, I like to shoot with a shutter speed of less than 1 second. It really moves like lightning, and there is a ton of color and detail. But it was a cold night, and I didn't want to take my hands out of my gloves more than I needed to.
Today, many cameras have excellent low-light sensitivity, really allowing you to push the ISO without much noise degradation. That's fantastic for wild displays like the one above, with active, colorful bands and lots of structure that you wouldn't want to get washed out with a slower shutter speed.
---
Affiliate link – I earn a commission if you shop through the link(s) below at no additional cost to you (more info)
---
4) Active and bright, but slower than corona
There may be multiple bands, but not quickly flickering across the sky. The motion is reminiscent of steam coming out of a smokestack. The high-altitude oxygen may be coming out to play, casting a red or purplish hue above the green. This is kind of the typical "good" Alaska night, not the best we get to see, but certainly something to write home about.
Additional Thoughts
I hope you find this helpful and that it gives you a jumping-off point. My most important piece of advice: don't glue your eyes to that camera! Take time to watch the aurora and enjoy it. Go outside, shoot, watch out for moose, and have fun. I'll keep adding some more examples below with different camera/lens combinations below.
Most of my photos were taken with the Nikon D7000 series (D7000 or D7100). The current model is the Nikon D7500. I've found this to be a fantastic mid-high-range crop-sensor DSLR. It's also a great all-around camera that doesn't break the bank. This is good for me because I tend to break equipment when I'm off in the backcountry for days on end. If you are leaning toward Canon, the 7D Mark II would be a similar model.
Note there are more articles still to come on aurora shooting. Other important topics are focusing, understanding the histogram (more detail in getting the exposure right), and using a tripod. For focus, you can start with a focus at infinity (simple), or find the hyperfocal distance for your lens (at a given aperture and focal length). For now, I can refer you to the Cambridge in Color site.
If you would like to support more content like this, please consider coffee as motivation! Thanks!
All images copyright Lee W Petersen – Please contact for usage: lee@lwpetersen.com
---
Affiliate link – I earn a commission if you shop through the link(s) below at no additional cost to you (more info)
---
More Examples
The full-frame camera advantage comes from the larger sensors, which can collect more light per pixel. As a result, there is less random noise. The aurora here was fairly active but not very bright. Being able to increase the ISO to 2500 was very helpful to capture.
Aurora and a bright moon can make fantastic shots as long as the northern lights are bright enough to be seen against the moonlight. It's great when you can get the real foreground and not just silhouettes!